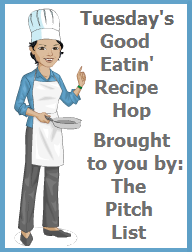 Welcome to the Good Eatin' Recipe Hop
hosted by
The 'Pitch List' Bloggers
Every Tuesday you can join us to share great recipes………
There are no specific themes. 
Add your recipe of choice to the linky below.
No Giveaways Please…all giveaways will be removed.
We Love Comments! Please Share!
~~~~~~~~
 African Babotie
The hunt was on for a Bobotie recipe after my Granny's Sail Away Adventure trip ended. I was attending the Disney Dreamers Academy 2013 and was treated to some great African Cuisine at Jiko's restaurant located at Animal Kingdom Lodge. So many fine savory foods and appetizers. Jiko offers a Crispy Beef "Bobotie" Roll With Cucumber Raita, Green Mango Atjar, and Roasted Groundnuts. I was not able to find that exact recipe, but I did find one that worked for me.   It was also very easy to make this recipe Gluten-free. Give it a try and see what you think…
 African Babotie
Ingredients: (serves 4)
1 lb ground beef
1 tbsp butter
2 onions, minced
2 garliccloves crushed
1 tbsp cumin
1 tsp ground turmeric or ginger
2 thick slices of bread, crumbled (gluten-free bread can be used)
¼ cup of milk
juice and rind of ½ a lemon
1 egg
1 tsp each salt, pepper
3 oz dried apricots, chopped (I used 2 tbsp apricot preserves)
1 apple, peeled, cored, and chopped
¼ cup golden raisins
1 to 1 ½ oz slivered almonds
1 1/2 tbsp curry powder
You will also need the following to top it off with:
1 cup milk
2 eggs
½ tspn salt
Directions:
Set the oven at 350°F.
Heat 1 tbsp butter in a large skillet over medium-high heat and add oil. Add onions, apple, and ginger, and season with salt and pepper. Saute for about 10 minutes or until soft and brown. Add turmeric and curry powder and stir to combine
In a separate bowl, mix together the ground beef, bread, milk, lemon juice, egg, salt, pepper, apricots, golden raisins, and almonds. Add them to the onion and spice mixture and mix thoroughly.
Transfer the Boboti mixture to a greased casserole dish( or oven skillet). You can add bay leaves on top for extra flavor and flourish. Cover and bake for 1 hour and 15 minutes.
Next work on your topping;  Get milk, eggs, and salt ready by whisking them together. Take your Boboti out of the oven, and pour egg mixture on top. Return to the oven, uncovered, for another ten to fifteen minutes at 400°F.
Hope you try this dish out and enjoy a taste of Africa in your own home.