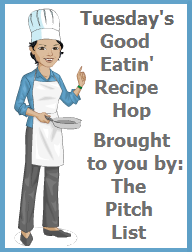 Welcome to the Good Eatin' Recipe Hop
hosted by
The 'Pitch List' Bloggers
Every Tuesday you can join us to share great recipes………
There are no specific themes. 
Add your recipe of choice to the linky.
No Giveaways Please…all giveaways will be removed.
We Love Comments! Please Share!
While visiting some of my fave bloggers sites yesterday, I got a hankering for homemade tomato soup. I love the memories  this comfort food brings back from my childhood. Sitting around Granny's table with our bowl of warm soup and of course, grilled cheese sandwiches. So I decided that is what I needed to fix. It really is not hard to make your own fresh tomato soup, and it tastes SO much better than from a can of the processed variety at the grocery store. Try it yourself one day and you will see.
Roasted Tomato Soup
(serves 4)
Ingredients
3  pounds roma tomatoes, cut in half
1 1/2 teaspoons olive oil
1/4 cup chopped onion
1/4 cup shredded carrot
1/4 cup celery chopped very fine
1 clove garlic, minced
1 cup chicken broth (We use low salt)
1 teaspoon thyme
1 teaspoon rosemary (if you have it- really adds to the flavor)
1 tablespoon basil
1/4 teaspoon salt
1/4 teaspoon black pepper
2 -3 tablespoons fat-free yogurt
Directions
Preheat your oven to 350 degrees. Arrange tomato halves, cut side down, in baking pans. Roast for about 25 – 30 minutes,  Remove from oven and let cool. Lift skins from tomatoes and discard skins (some skins may stay on tomatoes) set tomatoes aside.
In a large saucepan heat oil over medium heat. Add onion, carrot, celery, and garlic. Cook 3- 4 minutes or until onion is tender, stirring occasionally. Add tomatoes and any liquid your roasting pans, Add the chicken stock, thyme, and rosemary. Bring to boiling; reduce heat. Simmer, covered, for 5 minutes. Remove from heat; cool slightly.
Blend tomato mixture in a  food processor or blender until smooth. Return all to the saucepan. Stir in the basil, the salt, and pepper. Stir in the  yogurt. Heat through.
*Note* You can also add additional yogurt onto individual servingsand sprinkle with additional fresh basil.
Serve soup with Grilled Cheese Sandwiches.
~~~
There you have it!  My little bit of nostalgia and fresh homemade comfort food.
What is your fave comfort food?
Check out these other great recipes!