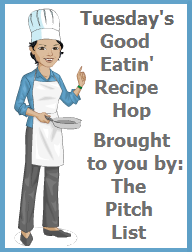 Welcome to the Good Eatin' Recipe Hop
hosted by
The 'Pitch List' Bloggers
Every Tuesday you can join us to share great recipes………
There are no specific themes. 
Add your recipe of choice to the linky.
No Giveaways Please…all giveaways will be removed.
We Love Comments! Please Share!
~~~
~~~
Recently, we had one heck of a cold snap. When it warmed up we were dealing with busted pipes. After that was fixed, I found myself cleaning out the cabinet under the sink. My cleaning frenzy urged me to attack the other cabinets in my kitchen. OK! Have no clue what got into me, but let's just go with it! So during my cleaning adventure I came across my Grill Mate Indoor grill. Hmmmmm! I could not remember the last time I used it. Well, high time I put that baby back in use, and here is what I came up with!
Meatball Panini Sandwich
 (recipe serves 2)
Ingredients:
4 slices wheat bread
1 tablespoon melted butter
8-10 meatballs, cooked
1/4 cup marinara sauce
Directions:
Slice the meatballs into quarters. heat meatballs and  sauce in microwave. Heat grill (I use a Grill Mate indoor grill) Butter 1 side of each slice of bread, lay butter-side down on a plate or cutting board.  Now layer 1 slice of cheese, marinara sauce, meatball slices, more marinara sauce, remaining cheese, top piece of another bread, with buttered side facing out. Do this for each Panini sandwich.

Place  hot grill, and close and press down for about a minute. Continue cooking for a few minutes until brown.
Marinara roasted Oven Fries
(Recipe Serves 2)
Ingredients:
2 medium potatoes (Russets work best)
2 tablespoons oil (olive oil or Canola works very well)
1/4 cup Marinara sauce
Preparation:
Heat oven to 400°. Peel potatoes, or you can leave skins on,  slice lengthwise into thin (about 1/4 inch) slices. Cut the slices into 1/4- to 1/2-inch pieces. Then spread oil into the bottom of a large, shallow baking pan. Place potato strips in a bowl with Marinara sauce and toss or stir well. Making sure potato pieces are covered. Let stand for 10 minutes. Next spread potatoes in a single layer in the baking pan. Bake for about 10 to 15 minutes. Turn the potatoes and then continue baking for 8 to 10 minutes more or until tender and brown.
Check out these other recipes!